Topsun in News
2021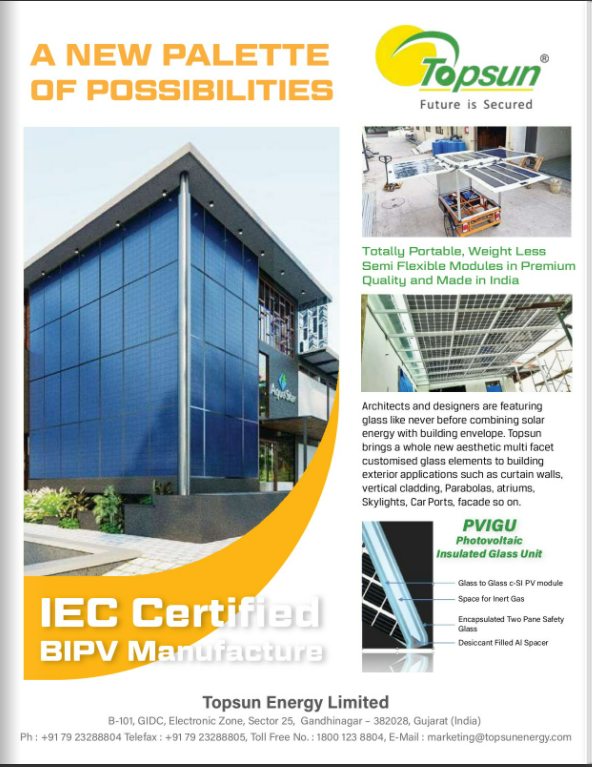 IEC Certified BIPV Manufacture – Topsun Energy Limited
Totally Portable, Weight Less Semi Flexible Modules in Premium Quality and Made in India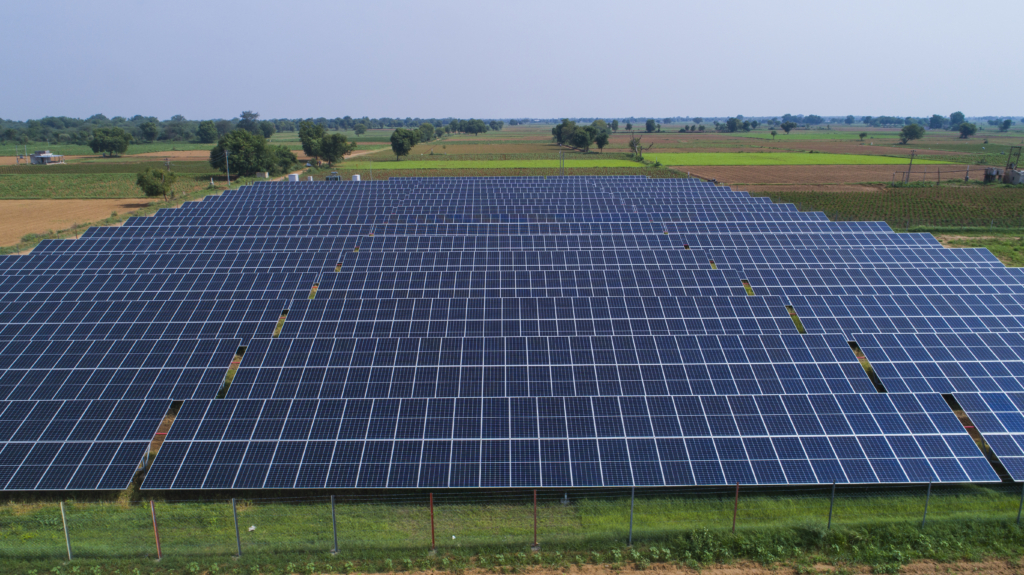 Highlights :
This is the first plant set up by Topsun which was commissioned by Gujarat Urja Vikas Nigam Ltd.
Power evacuation to grid was completed under the Small-Scale Distributed Solar Projects (SSDSP) 2019 scheme.
Gandhinagar-based rooftop solar manufacturer Topsun Energy Ltd has set up a 1 MW solar power plant, their first one to be commissioned by Gujarat Urja Vikas Nigam Ltd. (GUVNL). Power evacuation to grid has been completed successfully under the Small-Scale Distributed Solar Projects (SSDSP) 2019 scheme.
Founded in 2007, Topsun offers innovative photovoltaic products and systems for residential, commercial, industrial and large scale solar plants. It supplies mono, poly, BIPV, and PVGU modules, as well as solar water pumping systems. The company claims to have installed 1100+ on-grid rooftop projects and 15000+ solar water pumps.
SSDSP aims to facilitate development of solar projects in the size range of 0.5 MW to 4 MW in the state's distribution network. The main purpose is to set up solar PV projects in scattered pockets of barren and uncultivable lands. The policy is expected to provide visibility to small developers in terms of available tariffs for the sale of power and help promote small-scale entrepreneurs.
GUVNL, a wholly-owned state electricity regulation board in the state of Gujarat, has been in the news since the beginning of this year. In April, Coal India Limited (CIL) announced that it had signed its very first Power Purchase Agreement (PPA) with the Gujarat utility for the sale of 100 MW of solar power to it. The state-backed coal mining and refining entity signed a 25-year agreement with GUVNL.
A month later, SJVN Limited announced that it had once again emerged as the winner in the auctions conducted by the GUVNL for 100 MW solar projects to be developed in the Raghanesda Solar Park. SJVN won the project capacity at a tariff of Rs 2.64/kWh.
Most recently, GUVNL has recently declared that the simple average of solar tariffs discovered and contracted through competitive bidding process conducted by it for non-park based solar projects during the period from October 1st, 2020 to March 31, 2021, is Rs 1.99/unit. Accordingly, as per the provisions of Gujarat Solar Policy 2021, this rate of Rs. 1,99/unit is to be paid by discoms for surplus solar energy injected into the grid. This compensation rate is applicable on relevant solar projects commissioned or to be commissioned during the period from April 1st, 2021 to September 30, 2021.
Source By : https://www.saurenergy.com/solar-energy-news/topsun-sets-up-guvnl-commissioned-1-mw-solar-plant-in-gujarat
2020
Preparing for next 10 Years as Renewable , Clean and Sun-energy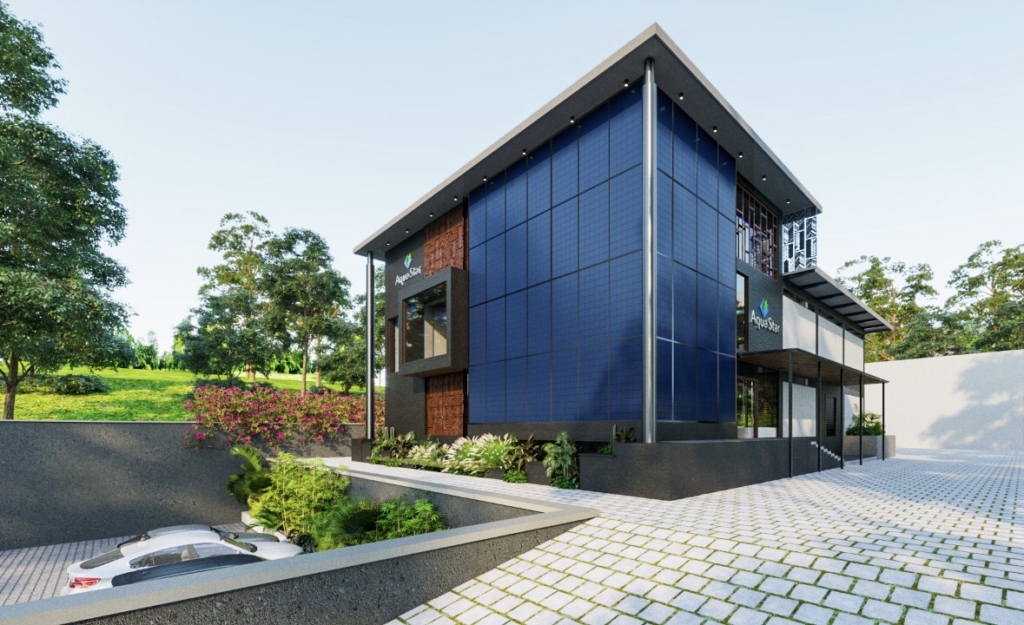 One of our Distinctive glass envelope open frame edge sealed G-G Photovoltaic vertical cladding for one of the commercial building in Kerala. Applauds to the system integrator "Ms Aurial Solar and Green Tech" from Kerala for good practices of installation and leading green building architect from Kerala.
"Today Glass envelop buildings have become a cultural Icon, but can all glass buildings really be considered Green?"
Building Integrated Photo Voltaic (BIPV) refers to photovoltaic cells & modules which can be integrated into the building envelope as part of the building structure and therefore can replace conventional building materials, rather than being installed afterwards. Integration where the PV elements actually become an integral part of the building, often serving as the exterior weather skin.
Features
Encouraging Power Generation for the building Electricity use.
Reduces day light use within Building by allowing natural light through BIPV (customized designed cell placement) thereby reducing further electricity use.
Topsun BIPV uses fully tempered glasses to assure complete Human Safety
Product is completely Corrosion free so Long Life & Highly Reliable.
Provides Thermal Insulation to building as well through the sandwich construction of the modules.
You can construct a weather proof, waterproof & windproof facade or roof of building to attract sky light.
The advantage of integrated photovoltaic over more common non-integrated systems is that the initial cost can be offset by reducing the amount spent on building materials and labor that would normally be used to construct the part of the building that the BIPV modules replace. These advantages make BIPV one of the fastest growing segments of the photovoltaic industry. BIPV module concept in India has been installed many part of India and recently with ISRO. Its with an advanced version of BIPV called Solar PVGU. Solar PVGU double glass unit with inert gas filled in place of conventional glazing. Reducing energy use and carbon emissions is currently a top priority in the building and construction sectors. A key cost-effective strategy to reduce carbon dioxide (CO2) emissions in buildings is by increasing the thermal performance of building envelops.
TOPSUN'S Solar BIPV can be used in a variety of applications mainly stationery fenestration for commercial buildings and residential construction and many other areas where energy conservation & comfort are part of the design.
Topsun has a supply track record to ISRO and IOCL like reputed central Gov. organization and expecting back to back order. Out of the same supply to ISRO is the first key project in India with insulated Solar PV module. Topsun has cumulative 2MW supplies of BIPV in India and abroad.

Applications:
BIPV Curtain wall: A curtain wall made of BIPV panels is an exterior wall that provides no support to the actual building.
BIPV Spandrel application: Opacity is the specific requirement of wherever a construction material or structure needs to be hidden. Solar BIPV with crystalline PV cells can be designed with required transmittance as per the architects design and can harvest solar energy for Spandrels.
BIPV Glazing for Skylights, Facades: Glass BIPV panels can be applied basically anywhere  to windows or skylights providing a semi-transparent facade allowing a certain percentage of light to enter the building.
BIPV Pitched Roofs: PV laminated glass as thin as 3.2mm, to double & triple high efficient glazing gets easily integrated within any curtain walling system or facade. Junction box and wiring gets easily hidden between the structural material to be covered up, making a perfect aesthetic solution.
BIPV Canopy & Car port applications: Photovoltaic Parking Lot is a structure where the photovoltaic installation provides the on-site Distributed energy generation (DER) for supply to the electrical car batteries.
BIPV Solar Greenhouse: Several plants suffer from direct sunlight and therefore depending on the type of plants grown in a greenhouse the installation of BIPV panels, with a certain percentage of transparency, can prove to be useful in such applications.
Why Choose Topsun:
1) Orientation, slope options, sizes or wind loads are some key variables that should be measured accurately in order to get a correct design for the main structure for which we have specialists team which works for tailor made projects with all customization.
2) Green Building design is becoming a great interest for real estate companies today. Qualitative facts such as return on investment (ROI), enhanced indoor comfort and productivity level due to the radiation filtration with optimal natural light contribute in earning Green certifications such as LEED and BREAM and we help you analyze that better with our customization.
3) Topsun BIPV can be customized in different sizes, shape, colors, thickness & percentage of transparency to suit client taste of aesthetics.
BIPV, BAPV, Retrofits, rooftopsolar , Balcony Balustrades, Facade Cladding, Awnings, Carports, Elevations, Skylights and Roof Integrated Systems
solar panel MSME Groundmount Subsidy monocrystalline PolyCrystalline BIPV MonoPERC solarenergy solarpanels sustainableenergy greenenergy ecofriendly commercial residential industrial rooftop epc solarpower system
2019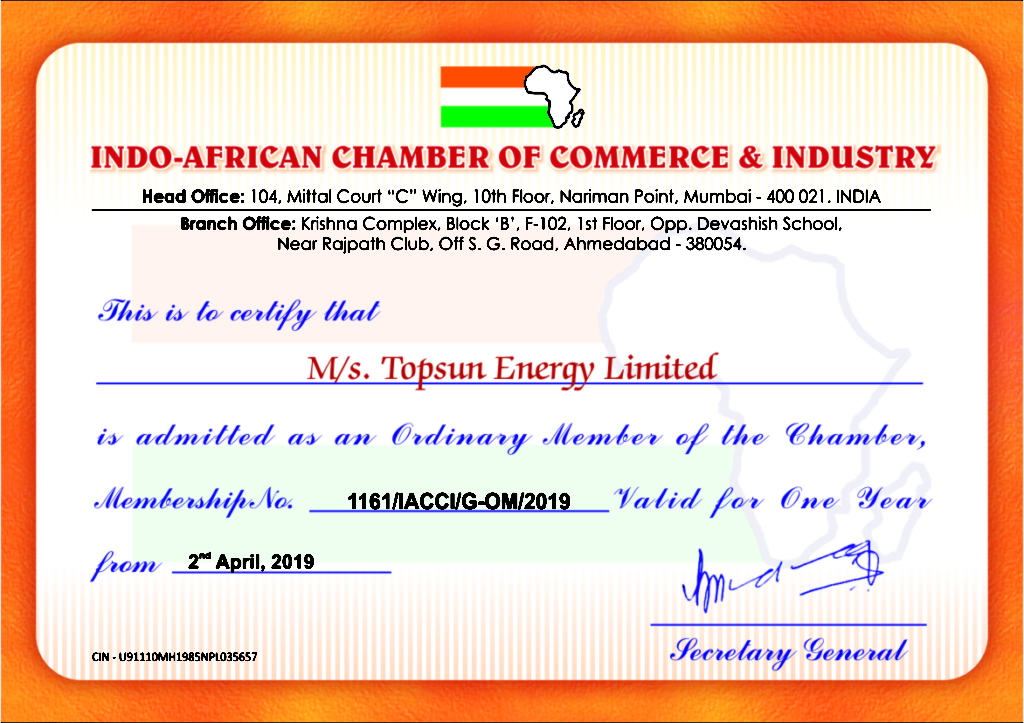 Topsun Energy Ltd registered as Approved Member of Indo-African Chamber of Commerce & Industry (IACCI) with Entity No. 1161/IACCI/G-OM/2019
2018
2017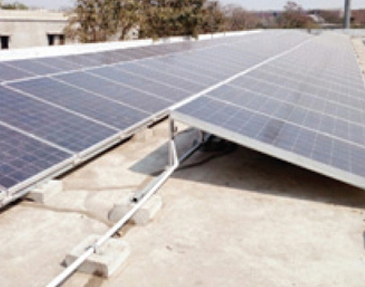 Topsun completes grid-tied solar power plant at Gujarat University Campus
Topsun is one of the leading manufacturers of solar modules and an EPC company based in Gujarat. The company has installed 300 kWp grid-connected solar rooftop power plant at the premises of Gujarat University Campus, Ahmedabad under net metering scheme of Gujarat Solar Rooftop Policy 2015.
Article link :
Read more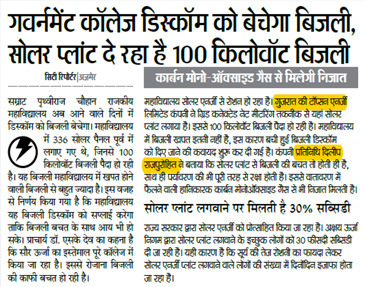 Dainik Bhaskar (09th Feb 2017)
2016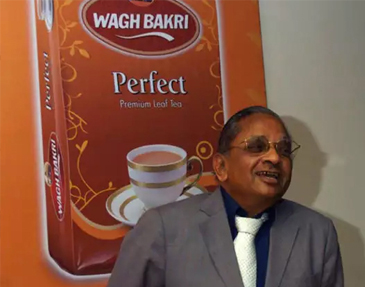 Wagh Bakri Tea Group, the third largest packaged tea company, has taken the initiative to make its manufacturing plants solar energy efficient. The company has installed a 125KW solar power rooftop facility at its Dholka factory, spreading over an area of 12,500 sq. ft, investing nearly Rs 1 crore for the project.
Article link : Read more 

More