Solar Crystalline Photovoltaic Modules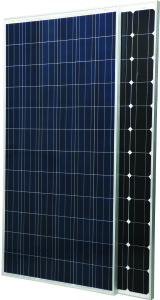 There are many technologies which are available now to produce power from the sun but the oldest and the most prominent and dominant one is still crystalline technology which is available in mono as well multi crystal formats. The technology is being used widely on earth territory as well as on the satellite wings with a proven track record of more than 50 years. Technology enhancement has also reduced the cost of crystalline technology and added efficiency to such levels that it has become the first choice of any customer.
Dominant & Widely Used Technology
Efficient & Cost Effective Performance
Preferred for Roof-top & Ground Mount Applications
Description
This technology adds great value due to its linear degradation and consistent performance all over the operation life. Power to size ratio is very high compared to the other technologies makes it the most suitable choice for roof top and ground mount solar grid tied power generation applications where limited area as well as cost of land in projects matters.
Features
Mono/Multi Crystalline
3BB/4BB Modules
PID free
Micro cracks free -100% EL inspected
AR coated glass for better positive tolerance
Zero negative tolerance
RoHS and CE certified
Linear degradation as per Industry standard
Best suited for Grid Tied applications
Certifications
IEC 61215: 2005 Ed 2.0
IEC 61730-1: 2013 Ed 1.2/IEC 61730-1: 2
IEC 61730-2: 2012 Ed 1.1/IEC 61730-2: 2
IEC 61701: 2012 salt mist corrosion test